This is part of the User Interface related to Quests.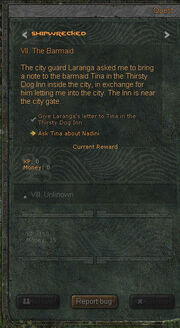 Through your quest log you can do several things:
If you have enabled quest tracker, you can simply track your quest, by clicking on it, you will get and arrow which way to go and also the place where the quest is will be marked with X.
You can share or delete your quests.
You can report your quest for bugs that might have happened.
When you browse you quest log, you can see on your map where the quests are, or if you are done with them you can see where to deliver them.
Ad blocker interference detected!
Wikia is a free-to-use site that makes money from advertising. We have a modified experience for viewers using ad blockers

Wikia is not accessible if you've made further modifications. Remove the custom ad blocker rule(s) and the page will load as expected.