Ad blocker interference detected!
Wikia is a free-to-use site that makes money from advertising. We have a modified experience for viewers using ad blockers

Wikia is not accessible if you've made further modifications. Remove the custom ad blocker rule(s) and the page will load as expected.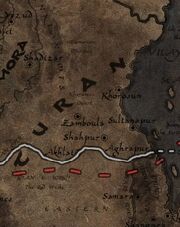 Gleaming mailed and silken-clad riders, masters of the Vilayet Sea, Turan revels in sweeping the barely contested wastelands to the west and south. Turan, however, must bear the plague of a thousand frustrations arising from the seemingly indomitable and ever resurgent Kossaks, Zuagirs, and Vilayet pirates. Perpetually battling raiders and quelling revolts from a hundred pinpricking sources, the rulers of Turan pass their reign in unceasing watchfulness. Turan is a natural enemy to
Iranistan
and
Vendhya
, but stands in loose alliance with
Hyrkania
.
Coast of Ardashir is currently the only zone available in Turan.