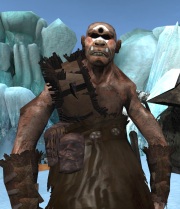 Hyborian evolution is a continuing process, and while some races emerge from stone-age darkness, others sink back into the mire of pre-human cannibalistic savagery.'
Among the forest-covered hills of the northwest exist wandering bands of ape-men, without human speech, or the knowledge of fire or the use of implements. They are the descendants of the Atlanteans, sunk back into the squalling chaos of jungle-bestiality from which ages ago their ancestors so laboriously crawled. To the southwest dwell scattered clans of degraded, cave-dwelling savages, whose speech is of the most primitive form…
- Robert E Howard – The Hyborian Age
Hyborian evolution is a continuing process, and while some races emerge from stone-age darkness, others sink back into the mire of pre-human cannibalistic savagery.
One such tribe of savages lurks in caves near Atzel's fortress after descending from the frozen mountain plateaus to the north. They follow the mammoth migrations, hunting the great beasts as well as taming them.
They have been blamed for stealing prisoners from Atzel's detention camp nearby and menacing unwary travelers in the snowy wastes, but they are tolerated by Atzel's bandit forces (they have no loot or valuables to pillage).
However, the truce is an uneasy one and should the cave dwelling savages start dining on bandit flesh open warfare is likely to break out