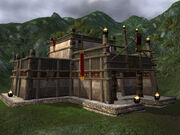 Description
Edit
The Temple is a sanctuary for all those who have devoted themselves to the gods. In here, among hushed voices, wise priests have learned how commitment to their deity protects them in battle and grants certain invulnerability against harmful magic.
Requirements
Edit
Ad blocker interference detected!
Wikia is a free-to-use site that makes money from advertising. We have a modified experience for viewers using ad blockers

Wikia is not accessible if you've made further modifications. Remove the custom ad blocker rule(s) and the page will load as expected.