Ad blocker interference detected!
Wikia is a free-to-use site that makes money from advertising. We have a modified experience for viewers using ad blockers

Wikia is not accessible if you've made further modifications. Remove the custom ad blocker rule(s) and the page will load as expected.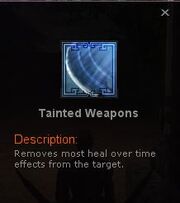 Requirements
Edit
5 Alternate Advancement ranks purchased
You must be at least level 80
Acquired from training the Tainted Weapons perk in the Rogue Alternate Advancement Tree.
Takes 540 hours to time train.