The war painted Snow Mammoth is available in-game at the NPC mount vendors and comes in three different looks. Besides being a very stylish player mount, the Snow Mammoth - like its brown brother the War Mammoth - can be used in siege PvP-battles to attack enemies and destroy structures. The Snow Mammoth is available in three different war paint looks.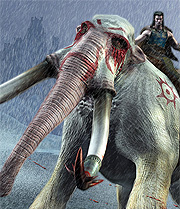 The Snow Mammoth is also common in various Funcom offers, you can
get it through /claim if you have it.
Ad blocker interference detected!
Wikia is a free-to-use site that makes money from advertising. We have a modified experience for viewers using ad blockers

Wikia is not accessible if you've made further modifications. Remove the custom ad blocker rule(s) and the page will load as expected.