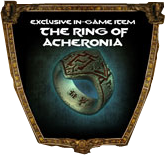 Ring of Acheronia
Ring - Left/Right Finger


Not Tradable
Can Only Have One

This ancient ring enables the wearer to gain experience at a
slightly faster pace than normal, until reaching level 40.

This ring will be only available to the people who have purchased the Collectors Edition of Age of Conan as an In-game Promotions The ring it self will not be tradeable. the ring will give a (2%) increase experience gain. And a (3%) increase in health. This will more then likely be one of the better rings to level with If you are planning to level up more then one character this should be enough to buy the collector's edition.