Ad blocker interference detected!
Wikia is a free-to-use site that makes money from advertising. We have a modified experience for viewers using ad blockers

Wikia is not accessible if you've made further modifications. Remove the custom ad blocker rule(s) and the page will load as expected.
For an updated map of the Onyx Chambers, go to http://aoc-is.better-than.tv/onyx.php

World First Conquer and Map Made from "Death of Eternity" Guild (http://DeathOfEternity.com)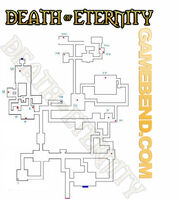 The Onyx Chambers Map Revealed

Enemy Spawns:
I ) Far Seer
II ) Vahaben The Disemboweled
III ) Suthotun The Strangled
IV ) Belshas
V ) Kesh
VI ) Trampler Rage
VII ) Skull Splitter
VIII) Undying Scion
IX ) Wenric Gorm
X ) Neftummon
XI ) Nefru
These ancient chambers have been used as tombs and treasuries, sewers, as troves of lore and arcane workshops where the vilest of experiments are performed on screaming men and women, acts so terrible they must be done in places far from the light of day and sealed in silent ominous stone walls.
The pollution, blood and corruption that have seeped down from the Black Ring Citadel over the centuries have dissolved much of the bedrock foundations. The natural caverns left behind were clad in the hardest rock known to man in an effort to resist the corrosive contamination, rock laced with black veins of Onyx so that it appears the walls have capillaries of frozen darkness that throb and pulse with the evil around it. This Onyx is what has given these chambers their name.
No Stygian tomb-robber would dare risk a venture into these chambers despite the riches that may be found there, but others are less aware of the dangers. Rumors of grave robbers from Shem are murmured in Kheshatta. No-one yet knows the horror they have disturbed down there but soon all will hear of Setsokhaten the death-knight.
The subterranean chambers have become polluted over the centuries and this has had a strange effect on the native Stygian crocodiles. Now they are powerfully built and thick scaled, dangerous and very territorial powerhouses with nasty dispositions.
At the heart of the chambers is a cabal of Black Ring necromancers performing rites only possible in such a sinkhole of evil, but what blasphemies they perform and why is yet to be discovered.
Loot Table
Edit