Ad blocker interference detected!
Wikia is a free-to-use site that makes money from advertising. We have a modified experience for viewers using ad blockers

Wikia is not accessible if you've made further modifications. Remove the custom ad blocker rule(s) and the page will load as expected.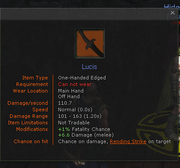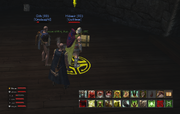 Dated Jun 5th, 2008 is the first record of anyone killing the boss Atzel.
The following were present during this event.
Guild - Cobra -Ninjaboy (guild leader) -Docan -Gravien
Guild - Onsalught -Cith
Guild - Unleashed -Akumu
Guild - Guiltless -Hideair
This is the first official retail kill of Atzel with screenshots.
King Atzel the Nithing

File:Lucis.png

Lucis

One-Handed Edged - Main Hand
Off Hand

"Main Hand<br />Off Hand" cannot be used as a page name in this wiki.




Not Tradable


110.7

DPS (101 - 163 (1.20s))

+1%

Fatality Chance


+6.6

Damage (melee)
Chance on damage, Rendering Strike on target









Found in Atzel's Fortress