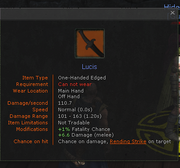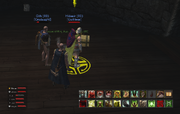 Dated Jun 5th, 2008 is the first record of anyone killing the boss Atzel.
The following were present during this event.
Guild - Cobra -Ninjaboy (guild leader) -Docan -Gravien
Guild - Onsalught -Cith
Guild - Unleashed -Akumu
Guild - Guiltless -Hideair
This is the first official retail kill of Atzel with screenshots.
King Atzel the Nithing

File:Lucis.png

Lucis

One-Handed Edged - Main Hand
Off Hand

"Main Hand<br />Off Hand" cannot be used as a page name in this wiki.




Not Tradable


110.7

DPS (101 - 163 (1.20s))

+1%

Fatality Chance


+6.6

Damage (melee)
Chance on damage, Rendering Strike on target









Found in Atzel's Fortress
Ad blocker interference detected!
Wikia is a free-to-use site that makes money from advertising. We have a modified experience for viewers using ad blockers

Wikia is not accessible if you've made further modifications. Remove the custom ad blocker rule(s) and the page will load as expected.