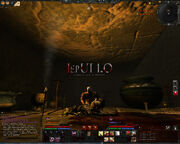 FOR AGE OF CONAN
Download at Curse.com : http://aoc.curse.com/downloads/details/13199/
Version 1.0, July 10th, 2008
Created and maintained by Jep Laliberté

Features :
Resized bottom hotbars (75% of original, ideal for 1080x1024 and lower)
Allows 55 unique bind-able buttons on screen at once (with use of floating hotbars. 32 bind-able buttons on bottom hotbars)
Floating side bars reduced to 10 slots each, to allow bind-key compatibility with bottombar slots
New graphics for bottom hotkey bar
Thin XP bar
Character/Target names smaller and cleaner
Repositioned Assassin's Soulshard and the Pet bar

Thanks :
To MirageUI and the regulars of the UI boards on the AoC US forums for the help and guides.

Bugs/Feedback :
As of now, no bugs have been reported. Remember, you're more likely to see results if you keep a civil tongue.
If you find one, please post at http://forums.ageofconan.com/showthread.php?t=121528

Other info :
This mod may possibly be used with other UI mods, however consequences or ensuing problems will not be supported by author.
Mix-match at your discretion.
Ad blocker interference detected!
Wikia is a free-to-use site that makes money from advertising. We have a modified experience for viewers using ad blockers

Wikia is not accessible if you've made further modifications. Remove the custom ad blocker rule(s) and the page will load as expected.