Inspiration UI
Edit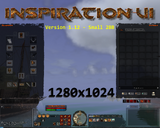 Version 1.13
Description
Edit
Inspiration UI is a mixed up of creativity, good ideals and recoding. The theme is inspired by some textures and pictures we can see in game.
Specifications
Edit
Transparancy style
1, 2 or 3 Bottoms bars version
Small and Normal Size is available
Minimap to bottom (From PlagedUI)
Portrait floating style (From TaranUI)
Screenshot - High Resolution
Edit
All sreenshot - Click here
Fan's screenshot
Edit
Send me a PM if you don't want your screenshot here
Resolutions
Edit
Resolutions tested list (Bottom table) - Click here
Mods compatible
Edit
Mods compatible tested list - Click here
Brainstorming
Edit
You are free to give your suggestions and your point about an ideal on the blog.
InspirationUI's blog - Click here
Installation
Edit
Installation details - Click here
Configuration
Edit
Your own setup - Howto - Click here
Credits & thanks
Edit
Inspired by

TaranUI v1.03 (Portrait, Casting Bar & XP/PVP Bars)
PlagedUI v1.7 (Bottom bar style, Side Panels & Hud)
Some files is original from the creator but almost totality is was create or edited by myself.
Tools used
Ad blocker interference detected!
Wikia is a free-to-use site that makes money from advertising. We have a modified experience for viewers using ad blockers

Wikia is not accessible if you've made further modifications. Remove the custom ad blocker rule(s) and the page will load as expected.