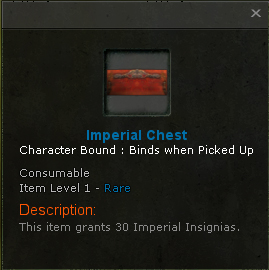 Double clicking on the box will reward you with 30 Imperial Insignias.
Most of the Khitai Dungeon quests offer this as one of the rewards.
Last boss in The Forgotten City lvl 80 Hardmode version drop two of these each time.
Ad blocker interference detected!
Wikia is a free-to-use site that makes money from advertising. We have a modified experience for viewers using ad blockers

Wikia is not accessible if you've made further modifications. Remove the custom ad blocker rule(s) and the page will load as expected.