Ad blocker interference detected!
Wikia is a free-to-use site that makes money from advertising. We have a modified experience for viewers using ad blockers

Wikia is not accessible if you've made further modifications. Remove the custom ad blocker rule(s) and the page will load as expected.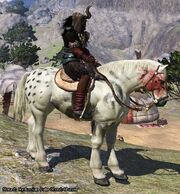 Hyrkanian Pale Ghost-Chaser
Binds when Picked Up
Mount
Item Level 1 - Rare
Buying requires Rank
Honored (Rank 4) in Hyrkanians
Can Only Have One
Effect - -8% Sprinting Stamina Drain
-35 Staggering Chance

Vendor Price

3 Gold 5 Silver
Summons your hyrkanian pale ghost-chaser mount -
a breed of the infamously fast horses of Hyrkania.