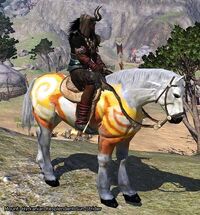 The Hyrkanian Horse is another ridable mount purchasable when you reach Rank 4 with the Hyrkanian faction. They can be used for combat and for day to day travel. Your horse, for example, can be controlled to kick with its front or hind legs when in combat, and you can fight or cast spells from its back. Each mount will grant his or her rider buffs in stats, for instance the horse can be equipped with armour which will buff your characters overall armour.
Ad blocker interference detected!
Wikia is a free-to-use site that makes money from advertising. We have a modified experience for viewers using ad blockers

Wikia is not accessible if you've made further modifications. Remove the custom ad blocker rule(s) and the page will load as expected.