General Information
Edit
Guild Name: Templum Assassinorum
Guild Website: http://www.TemplumOnline.com
Guild Forums: http://www.TemplumOnline.com/smf2/index.php?action=forum
IRC: #TemplumAssassinorum on irc.quakenet.org (We have a guild repeater bot, so you can talk to us in game through IIRC. We also use Vent to communicate in realtime)
Main Time Zone: EST/CST
Guild Leader: Vandevious
Guild Recruiter: Angellis, Lordii, Korak, Lavarik, Necromortis, Overlord, Ymir, Kainan
Guild category (PvE, PvP, Raid, Other): PVP first... Siege Second... Raid Third...
Guild Size: We currently have over 90+ unique accounts with characters in the guild. We operate the guild in 12 man squads... Each Guild Officer is a squad leader, and he appoints an XO as his assisting officer for the squad... they then fill out a squad roster of 10 warriors, from accounts with 1 character over level 60.
PvP: We are a para-military PvP guild... we operate under simple rules in the field, "Red is Dead". We are motivated to increase PvP rank through pvp xp so we do not condone griefing or killing of grey targets... We are known for and quite successful as Battlekeep mercenaries. Usually we are contracted for 2-3 Battlekeep Sieges per week as mercenaries.
Raid: At a minimum, we run through the Tier1 Raids (Yakmahr, Kylikki, and Visitrix) every week. We are currently flagging members to be eligible for BRC, Tier 2.
Roleplay: We do not require our members to role-play, but do not discourage it.
Voice: Ventrilo server - capable of holding 75 members at once
Recruiting members status: We are currently recruiting new members! Stop by the guild website and drop off an application or stop by the IRC chat room and talk to us in game.
Server type: Blood and Glory PVP
Platform: PC
Age: We are a mature guild and play with mature people. Members are 18+ age... and our #1 code of conduct is "No Drama", we have a zero tolerance policy on it.
About us
Edit
Templum Assassinorum is a para-military gaming guild that has set their sights on making their presence felt in Age of Conan. We're coming off a highly successful PvP campaign in Tabula Rasa, we're looking forward to the new challenge of the combat engine in the Age of Conan.

===

=== Nobility of Templum Assassinorum===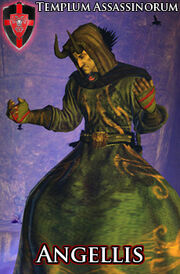 Elite Warmaster - Vandevious
High Warlord - Angellis
Lord Consul - Korak
Lord Titan - Gelden
Lord Envoy - Overlord
Lord Inquisitor - Necromortis
Lord Warden - Lavarik
Lord Artificier - Vandevious
Acting Guild Leader - Gcustoms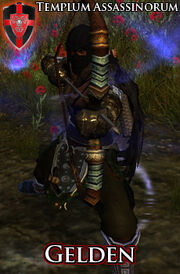 Ad blocker interference detected!
Wikia is a free-to-use site that makes money from advertising. We have a modified experience for viewers using ad blockers

Wikia is not accessible if you've made further modifications. Remove the custom ad blocker rule(s) and the page will load as expected.