General Information
Edit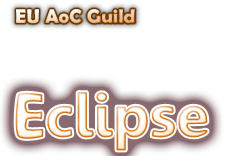 Guild Recruiter: Patriarch, Ramong, Faith and Itaso
Guild category: PvE & PvP
Recruiting members status: Recruiting
Age: +18, but proving that you are mature enough, we can make exceptions.
About us
Edit
Eclipse is a european hardcore guild. We focus on both endgame PvE and PvP. We all in this guild share a passion when it comes to MMOs.
We as a guild:
We, as a guild, are aiming at high endgame content in Age of Conan, while maintaning a mature behavior amongst ourselves. We experience with WoW where we did endgame content, both in WoW Classic & TBC, aswell as other MMOs. Most of us have completed all the PvE encounters in WoW that was available at the time we quitted. We all want to spend much of our time completing everything that we can, even wreaking havoc upon other guilds!.
This article is a Guild Information page.

The contents herein are entirely player made and in no way represent official Age of Conan history or occurrences which are accurate for all realms. The characters and events listed are of an independent nature and applied for roleplaying, fictional, speculative, or opinions from a limited playerbase only.
Ad blocker interference detected!
Wikia is a free-to-use site that makes money from advertising. We have a modified experience for viewers using ad blockers

Wikia is not accessible if you've made further modifications. Remove the custom ad blocker rule(s) and the page will load as expected.