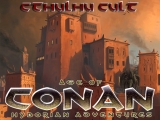 General Information
Edit
Guild Name: Cthulhu Cult
Guild Leader: Jjak
Guild Recruiter: Jjak, Theops, Torkamada, Kybo, Jemilya
Recruitment Status: Always Recruiting
Requirements: None
Guild City: Yes Complete T1
Guild category (PvE, PvP, Raid, Other):All
Roleplay: Ok!
Voice:TeamSpeak3
Recruiting members status: Always
Server: Wiccanna
Main Time Zone: EST
About us
Edit
The Cthulhu Cult was created as a "casual-play-style" guild for the game Age of Conan, in which players could find a community of like minded players of the game that wished to explore all aspects of the game without the constraints of mandatory attendance, scheduled play hours, and other "less-than-fun" guild mandates.
Our Number One Rules is: HAVE FUN!
This article is a Guild Information page.

The contents herein are entirely player made and in no way represent official Age of Conan history or occurrences which are accurate for all realms. The characters and events listed are of an independent nature and applied for roleplaying, fictional, speculative, or opinions from a limited playerbase only.
Ad blocker interference detected!
Wikia is a free-to-use site that makes money from advertising. We have a modified experience for viewers using ad blockers

Wikia is not accessible if you've made further modifications. Remove the custom ad blocker rule(s) and the page will load as expected.