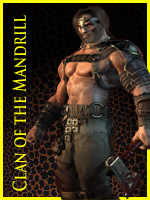 General Information
Edit
Guild Name: Clan of the Mandrill
Guild Website: http://www.clanofthemandrill.com
Guild Forums: http://clanofthemandrill.com/forums/phpBB3/
IRC:
Main Time Zone: Central
Guild Leader: Bloodtrail
Guild Recruiter:
Guild category (PvE, PvP, Raid, Other): PvE/PvP/Raid
Roleplay: No
Voice: Ventrilo
Recruiting members status: Will be Recruiting new members once in game.
Server: Tyranny
Server type: PvP
Platform: PC
Age: 21+ (If you can't drink - don't bother applying)
About us
Edit
Clan of the Mandrill is a guild on Age of Conan, Hyborian Adventures (AoC) going on a US PvP server. Our guild offers an interesting, multi-faceted structure to our organization. We have 2 Raid teams and a PvP team as well as a core group of casuals and artisans that want to belong to a successful guild but may not have the time or desire to meet Raid or PvP schedules. This affords casual players an opportunity to join in a professional Raid or PvP event and also allows for a dependable pool of subs. While recruitment into the guild is fairly lax, recruitment onto the Raid or PvP team is more difficult.
Raid Schedule
Edit
Our raid teams meet on the 9s. 9AM and 9PM CST. GvG events will meet at different times due to WOOs. All Raid activity will be cancelled for GvG events.
Recruitment
Edit
If you are a skilled veteran and mature player over the age of 21, we are looking for you to join our guild. See our recruiting thread to find the most current information.
Mission Statement
Edit
Achieve the best balance of artisans, hard core PVPers, professional endgame raiders and casual players in a solid and loyal guild where all members contribute to the guild's success and camaraderie and have fun doing it.
This article is a Guild Information page.

The contents herein are entirely player made and in no way represent official Age of Conan history or occurrences which are accurate for all realms. The characters and events listed are of an independent nature and applied for roleplaying, fictional, speculative, or opinions from a limited playerbase only.
Ad blocker interference detected!
Wikia is a free-to-use site that makes money from advertising. We have a modified experience for viewers using ad blockers

Wikia is not accessible if you've made further modifications. Remove the custom ad blocker rule(s) and the page will load as expected.