General Information
Edit
Guild Name: Caballeros Templarios
Main Time Zone: N/A
Guild Leader: N/A
Guild Recruiter: Lughnasad, Korraz, Ganicuss, Masizo
Guild Webmaster: Lughnasad, Masizo
Guild category: PvE - PvP
Voice: Ventrilo
Guild Launch: http://templarios.guildlaunch.com/
Recruiting members status: Open | Nuestro foro | Foro oficial
Server type: Wiccana US ( PvE )
Platform: PC
thumb|300px|right|Trailer oficial del Guild usando recursos de trailers oficiales publicados por Funcom
Caballeros Templarios
Edit
Nacidos del bien recordado clan Latitud Sur (Scourge > Tyranny) en el 2008, los Caballeros Templarios desde entonces pretende seguir impulsando un nuevo horizonte para la comunidad de Hispanos y Latinos que actualmente juegan en los servidores US.
2011: Una nueva era
Edit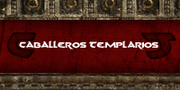 Después de conocer la nueva estrategia de Funcom para mover el juego a Free to Play, los Caballeros Templarios han vuelto para ofrecer una vez más el ambiente ideal y ofrecer una comunidad de Hispanos para Hispanos.
This article is a Guild Information page.

The contents herein are entirely player made and in no way represent official Age of Conan history or occurrences which are accurate for all realms. The characters and events listed are of an independent nature and applied for roleplaying, fictional, speculative, or opinions from a limited playerbase only.