Guild Information
Guild name
CIMERIAN BEARSEKERS

Timezone
GMT+02 ROMANIA
Language
English
Server Type
PvE
Realm Name
Cimeria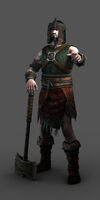 General Information
Edit
Guild Name:CIMMERIAN BERSERKERS
Guild Forums:
IRC:
Main Time Zone:GMT+2
Guild Leader:BLOODBEAR
Guild Recruiter:BLOODBEAR, SKETIL, VULZEVUL
Guild category (PvE, PvP, Raid, Other):
Roleplay:
Voice:No
Recruiting members status: the guild is currently recruiting new members
Server type:PVE
Platform:PC
Age:MATURE
About us
Edit
"ONE FOR ALL AND ALL FOR ONE" KEEP OPEN YOUR GUILD CHANNEL TO HELP YOUR MATES 

BEAR-SEEKERS are a particular sort of BERSERKER'S WARRIORS WITHOUT ARMOR IN BATTLE WITH THE POWER AND THE RAGE OF THE BEAR
Snorri Sturluson goes on to mention berserkers in the Ynglinga saga (chapter 6):
His (Odin's) men rushed forward without armor, were as mad as dogs or wolves, bit their shields, and were as strong as bears or wild bulls, and killed people at a blow, but neither fire nor iron told upon themselves
Ad blocker interference detected!
Wikia is a free-to-use site that makes money from advertising. We have a modified experience for viewers using ad blockers

Wikia is not accessible if you've made further modifications. Remove the custom ad blocker rule(s) and the page will load as expected.